Journalism Summit back for a second year
The first regional workshop is on the calendar!
Saturday, Sept. 30 – Journalism Summit at East Central College –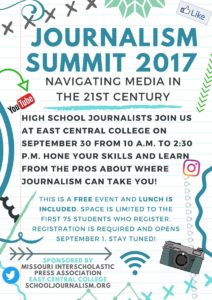 Registration will start Sept. 1.
Space is limited to the first 75 students who register (That's up by 50 from last year!).
This free event will take place from 10:00 a.m. to 2:30 p.m., and lunch is provided.
The theme this year is "Navigating Media in the 21st Century."
Students can expect to hear from various professionals and learn more about what ECC has to offer in partnership with the Missouri School of Journalism.
Beyond exploring the Journalism and Mass Media options at ECC, students will learn more about photography, compelling storytelling, tech trends, media literacy, and more.