Missouri Urban Journalism Workshop
THE DEADLINES HAS BEEN EXTENDED TO MAY 11, 2018!
MUJW is excited to announce the application for the Missouri Urban Journalism Workshop 2018 is available. We  will be offering a unique opportunity for student journalists to explore many facets of journalism. 

Attached you will find the information for selection to the 2018 workshop held at the Missouri School of Journalism on the campus of the University of Missouri in Columbia.
Our mission for MUJW is to help aspiring high school student journalists in developing an understanding of the importance of diversity in news coverage and in the newsrooms of America. This hands on, interactive workshop is based on teaching the Missouri Method and facilitating growth in all areas of cutting edge, 21st-century journalism.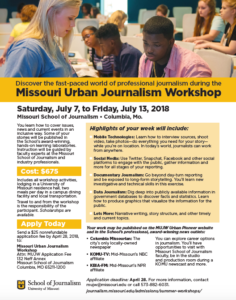 Application to this workshop is competitive and selective so it is imperative for applicants to complete all areas of the application process fully. Please adhere to the application deadline of April 28, 2018. The $25 nonrefundable application fee is due in our office in the form of check or money order no later than 10 days after submission of the application. If selected, your application fee will be applied to the $675 workshop fee. There is financial aid available on a need basis. Be prepared to submit required documents for determination of financial need as well.
In order to apply, you will have to create an account on submittable.com through the link on the instruction sheet. Be prepared to supply your best examples of journalistic work. We require three writing samples and up to three more work samples showcasing your abilities in photo, broadcast, podcast, online, or other types of media. If you do not have journalistic writing samples, we will accept academic writing as well.
You can access the application through this link:
Send the checks for the application fees to:
Office of Student Development, Diversity & Inclusion
181B Gannett Hall
Missouri School of Journalism
Columbia, MO 65211-1200
Please contact MUJW, if you have any questions or concerns about any part of the application process or about the program.
Missouri Urban Journalism Workshop Coordinator Stephanie Green
132 Neff Annex
Columbia, Missouri 65211-1200
573.882.6031