J Day Celebration
UPDATE AS OF MARCH, 12: J-Day 2020 is Cancelled Out of an abundance of caution and in consultation with Missouri Interscholastic Press Association and MU campus leaders about COVID-19 precautions, Scholastic Journalism Day – J-Day – on Wednesday, March 25, is cancelled. Visit https://mipajournalism.com for more information and updates.
---
J Day is MIPA's annual journalism celebration held at the University of Missouri in Columbia in late March.
It is a full day of speakers, workshops, awards and fun! And it's FREE for all MIPA member advisers and their students. Dozens of schools from across the state bring their entire staff on a bus to Columbia, arriving between 8 a.m. and 8:30 a.m. to Jesse Hall to gather for the kickoff! Come early and enjoy a staff photo slideshow, visit vendors, and wake up with games to play and prizes to win.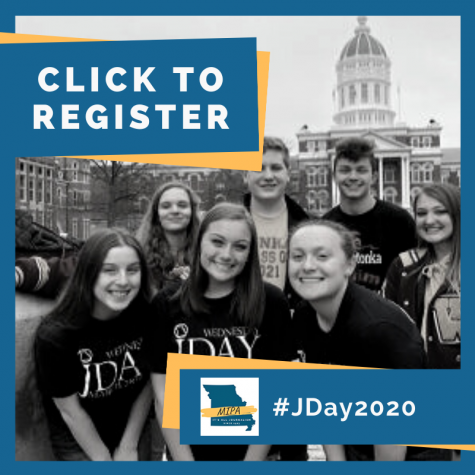 Upon arrival, students may enter the annual Onsite Photo Contest where student photographers work to submit under deadline pressure on event day in the hopes of grabbing an award during the awards ceremony.
Students wear their own staff shirts or can purchase J-Day T-shirts in advance using an online order form and spread the J Day spirit.
Following the KickOff, students can choose from five sessions featuring dozens of journalism-related workshops and learn hands on from a variety of professionals. Multiple class blocks offering nearly three dozen sessions ranging from yearbook to newspaper/magazine to broadcast, photography, current events, trending topics and more are scheduled. There are also adviser-only sessions. Plus, advisers are invited to a MIPA member update meeting to find out more about what MIPA offers its members and how the organization runs.
In addition to sessions, pre-registered students enrolled in the brand new Strat Comm Scavenger Hunt will meet in Jesse Auditorium to start this first-ever event combining schools, skills and strategy!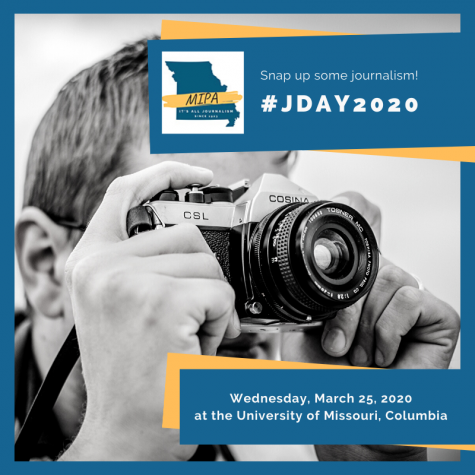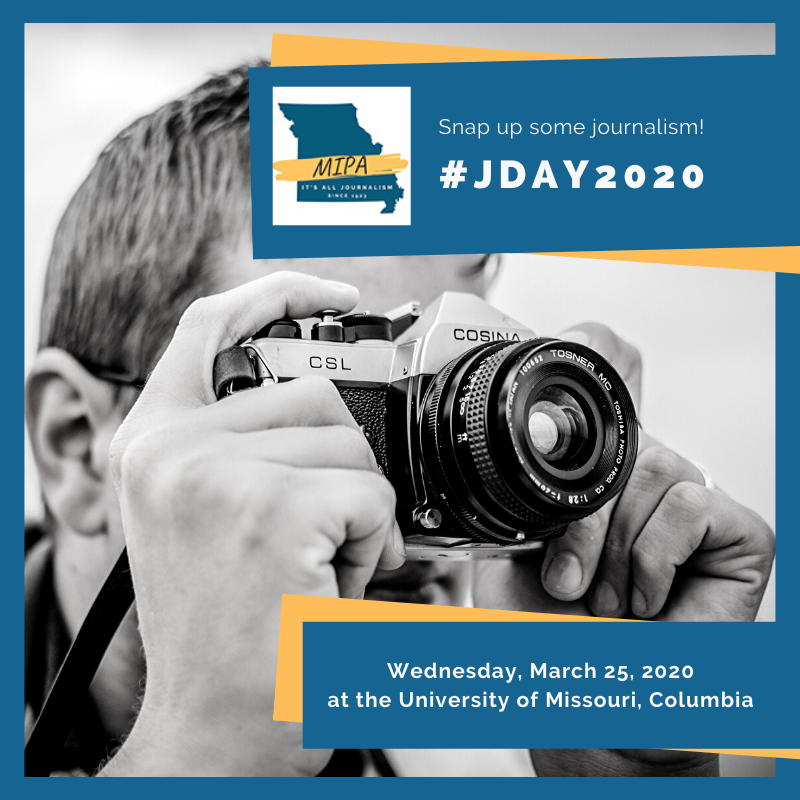 Lunch is often a time for staff members to gather for team building at a local restaurant of their choosing or split and enjoy one of the many Mizzou eateries on campus or Columbia restaurants within walking distance.
Following lunch, the more than 1,500 students gather back at Jesse Hall to honor award recipients including the Challenge and Photo of the Month winners, Student Journalist of the Year, Teacher of the Year, Administrator of the Year, Emerging Journalism Educator and more. Students will also celebrate the All-Missouri award winners on stage, and have other certificates earned ready to be picked up after the ceremony.
Journalism students from all MIPA member schools are eligible to win awards by submitting in February to the MIPA J Day Contests. 
Schools wishing to attend this FREE event still need to register in advance for the Wednesday, March 25, 2020 J-Day. Registration closes at midnight a week before J-Day.
Our 51st J-Day promises to be the awesome with all it's new features!
Student registration for particular sessions is not needed. Just complete teacher and school information, the total number of students and teacher lunch request, if needed. Free parking for busses will be at the Hearnes Center, if you need parking for cars/vans, use the link to MU parking provided in the registration confirmation email.
Don't miss out on this valuable educational and celebratory day for your journalism students! Bring your publication staffs and join us at the Missouri School of Journalism in March!
Please send any questions to [email protected].
2020 SPONSORS: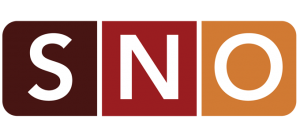 REGISTRANTS:
2020 – 1,525 students and teachers registered
2019 – 1,340 students and teachers registered
2018 – 1,263 students and teachers registered
2017 – 1,565 students and teachers registered
…