Student Journalist of the Year
MIPA, your state scholastic press organization, supports student achievement and hopes to highlight Missouri's best and brightest students through our state Student Journalist of the Year competition.
Interested in applying for Missouri Student Journalist of the Year? One first step would be to apply to be the MIPA SJOY of the year.
On this webpage, you will find the instructions for application.
The MIPA SJOY is the longest-running SJOY contest in the state, started 50 years ago. It is also the only one with a cash award, plus scholarship offer.
Please enter by MIPA's deadline, which is Friday, Jan. 17, 2020.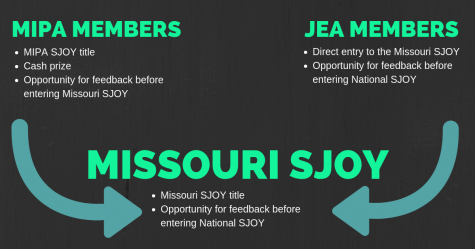 Once a winner is chosen as the MIPA SJOY, that honoree will be encouraged to apply to the Missouri SJOY contest in hopes of moving to nationals. To be eligible for the national level of JEA's Journalist of the Year scholarships, Missouri students must meet JEA's national requirements as well as submit a Missouri state application to the JEA State Director Erin Sucher-O'Grady by Feb. 7. Director Sucher-O'Grady will appoint a judge to choose the Missouri state nominee to the national level of the contest. Students applying to this level of the contest must have an adviser who is a member of JEA. The winning Missouri portfolio will be sent to the national contest, by the national March 15 deadline.
Member MIPA Schools: Every MIPA member high school publication (newspaper/ magazine, yearbook, broadcasting, web or other media) may submit one student entry to the MIPA Student Journalist of the Year competition. There is no cost to MIPA member schools.
MIPA SJOY candidates must:
Meet all national requirements and guidelines.
Be a senior and have participated in student media for a minimum of two years.
Be a member of a publication which is current MIPA member.
The components of the Missouri SJOY process align with those of the national JEA SJOY process.
Missouri SJOY candidates must:
Meet all national requirements and guidelines.
Be a senior and have participated in student media for a minimum of two years.
Have an adviser who is a current JEA member.
TO APPLY
Entrants should submit a state application, supporting materials and the online portfolio to the judge and MIPA office using the Online Submission Form by the deadline:
Application: MIPA Student Journalist of the Year Application
Supporting documents, which should be scanned and submitted as .PDF files in the Online Submission Form (example form here):

Official high school transcript or a counselor's statement including journalism classes take, grades and current GPA. Student should be a high school senior and should have an overall GPA of at least a 3.0 on a 4.0 scale.
Action photo of applicant involved in some aspect of student media.
Three letters of recommendation from those who know the applicant well and understand the impact of the journalistic experience on the student's life. No letter should exceed two pages in length.
Personal resume.
Self-analytical essay: Students should write with passion and make an impact on judges because this essay functions as the applicant's one-on-one interview with the judges. Essay should not exceed two pages in length.
Website Portfolio:

Submit an online portfolio meeting the national expectations. For step by step information on setting up a portfolio look here.
No personal information should be included in your online portfolio. This way your privacy will be secure. The URL you provide on the application will be all the judge needs.
JEA gives applicants a toolbox to help you.
Work examples are part of presentation where candidates can showcase their progress over time as a student journalist. Work examples in the online portfolio should be organized according to the following 11 categories:

 Design
 Editing
 Entrepreneurship
Law and Ethics
Leadership and Team Building
MultiMedia Broadcast
News Gathering
News Literacy
 Photojournalism
 Web
Writing

Each work example for the portfolio must be labeled with the applicable category, evidence of usage/publication of example, awards/contests entered and explanation/reasoning for each example. The Explanation/Reasoning may include the applicant's explanation about the specific assignment. Include any difficulties encountered with the assignment and special circumstances affecting it. Explanation should be 25-50 words in length, easy to read and should explain why this entry is important and was chosen for the portfolio.
The applicant's personality should be evident in the entry. The student should choose a design/concept for the portfolio.
Here are a few examples of past state and national winners' portfolios. Keep in mind the contest submission process and organization of work examples requirements may have changed since some of these were submitted.
SUBMIT MATERIALS using our Online Submission Form
TIPS FOR A SUCCESSFUL SUBMISSION:
Test every document you plan to send. Do they open? Do they look perfect? Does your URL work?
Use a non-school email to submit your entry. Many schools limit the size of email attachments students may send. Do not risk yours being caught in a blocker.
Choose a professional email address, like your first and last name, or an initial and your last name. Remember first impressions are important, [email protected] or [email protected] don't say "professional student journalist."
DEADLINES:
Friday, Jan. 17, 2020: One student from each MIPA member publication may submit his/her application, supporting documents and portfolio by email to the MIPA SJOY Judge and MIPA office.
in January 2020: A complete list of entrants will be posted on this webpage, and confirmation of receipt emails sent to entrants from the MIPA office or contest committee.
in January 2020: MIPA's Judge completes critiques. Submits winner's name to MIPA contest committee and returns critiques for all entrants to MIPA office. MIPA contest committee will name the MIPA SJOY winner.
in January-February 2020: MIPA SJOY winner works with adviser and MIPA office to prepare portfolio for Missouri SJOY competition.
Feb. 7 or sooner: MIPA SJOY winner submits Missouri SJOY entry to JEA Missouri State Director.
in February 2020: The JEA State Director will name a Missouri SJOY winner.
By March 15, 2020: The JEA State Director will submit, or help student submit, the entry to JEA for national competition.
March 25, 2020: MIPA SJOY winner will be recognized at the annual JDay at Jesse Hall, on the MU campus.
The honoree and/or the nominator will be invited to prepare a 30-second acceptance video to run at the spring Journalism Day on the MU campus.
SCORING:  The state SJOY judge will use the MIPA SJOY Contest Scoring Rubric aligned to the same criteria of the national JOY judges. All categories and possible points are the same between the state and national scoring rubrics. The only difference is the addition of spaces for judge's feedback to be made to the student applicant. It is the hope this feedback will assist the state winner in making any revisions prior to applying to the national Student Journalist of the Year contest.
2020 JUDGE:  JOE HUMPHREY, MJE, advises newspaper, yearbook and online media at Hillsborough High School in Tampa, Florida. Most recently, Humphrey was honored as a 2019 NSPA Pioneer Award winner recognizing his years of passion for and contributions to journalism education. He is evaluations coordinator for the Florida Scholastic Press Association and a member of the Journalism Education Association Certification Committee. Humphrey was local team chairman for the Fall 2015 National High School Journalism Convention in Orlando.
STATE WINNER: The MIPA SJOY state winner will be notified in late-January. S/he will be given time to review the judge's comments, make revisions where needed, and submit his/her Missouri SJOY application to the JEA State Director Erin Sucher-O'Grady. The same materials may be used at both state levels of the contest. If chosen as the Missouri SJOY, the applicant will need to submit the JEA national application and follow those requirements and guidelines for submission.
2020 SCHOLARSHIP: 
$2,500 scholarship – Missouri School of Journalism – MU proudly continues the tradition of offering a scholarship to the MIPA SJOY, provided that the MIPA SJOY winner chooses to attend the School of Journalism.
2020 Sponsors: $850 cash prize and a plaque
MIPA Board of Judges
eMissourian
Balfour yearbooks
Walsworth yearbooks
Missouri State Teachers Association
Planet Radio
KCWIFT, KC Women in Film & Television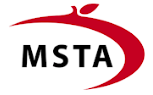 ---
QUESTIONS: 
If you have questions about the process, please contact the MIPA office at
[email protected]
.
---
Since 1969 this MIPA, your state-wide program, has honored student journalists from all over the Show Me State. All of these honorees were submitted for consideration in the Journalism Education Association's High School Journalism Student of the Year.
Here is a list of previous winners:
1969 Nancy Lewis, Kirkwood High School
1970 Erica Chaney, Charleston High School
1971 William Abrams, Horton Watkins (Ladue) High School, St. Louis
1972 Charles Dunn, Mountain Grove High School
1973 Rory Riddler, St. Charles High School; Becky Whisner, Warrensburg High School; Linda Ann Whelan, Monroe City High School
1974 David LaGesse, St. Charles High Schoo;l Jay Leve, Horton Watkins (Ladue) High School, St. Louis
1975 Ann Robinson, Scotland County R-l, Memphis; Nancy Ruhling, Kirkwood High School
1976 Karen Wallensak, Kirkwood High School, Rhonda Metheney, Central High School, Cape Girardeau
1977 Nathaniel Brown, Hickman High School, Columbia; Tom Reese, Kirkwood High School; Joy Howard, Truman High School, Independence
1978 Wendy Kafoury, St. Charles High School; Chris Schipke, Kirkwood High School
1979 Amanda (Mandy) Blanck, Boonville High School; Claudia Kauffman, Center High School, Kansas City
1980 Mark Grimm, Central High School, Cape Girardeau; Kathy Morris, Hickman High School, Columbia
1981 Cliff Cokington, Truman High School, Independence; Steve McCall, Hazelwood West High School
1982 John Goodman, Jefferson City High School; Jordan Smith, William Chrisman High School, Independence
1983 Mary Schulte, Washington High School
1984 Diane Mittler, Kirkwood High School
1985 Joe Barloon, Rockhurst High School, Kansas City; Kyle John, Truman High School, Independence; Teresa Schmedding, Mexico High School
1986 Brad Ward, Scott City High School
1987 Sherry L. Stanton, Platte County High School, Platte City
1988 Jeff Fields, Center High School, Kansas City
1989 Catherine Pegram, William Chrisman High School, Independence
1990 Avani Kherdekar, Mt. Vernon High School, Mt. Vernon; Daniel Berg, Horton Watkins (Ladue) High School, St. Louis
1991 Michael K. Griffin, Kirkwood High School
1992 Audrey Nell Reed, Francis Howell North High School, St. Charles
1993 Jeffrey C. McMurray, Truman High School, Independence
1994 Kristen Aggeler, Hickman Mills High School, Kansas City
1995 Amy Ann Corsale, Liberty High School
1996 Nora Katherine Radley, Francis Howell North High School, St. Charles
1997 Margaret Marie Heger, Ladue Horton Watkins High School, St. Louis
1998 Lisa Royse, Jefferson City High School
1999 Ann Kettenbrink, Jefferson City High School
2000 Rachel Felix, Park Hill High School
2001 Blythe Terrell, Kirkwood High School
2002 Christopher Young, California High School
2003 Kalen Ponche, Francis Howell North High School, St. Charles
2004 Lauren Miller, Mexico High School
2005 Sarah Handelman, Park Hill South High School
2006 Danielle Karstens, Francis Howell North High School
2007 Tess Olsen, Hickman High School, Columbia
2008 Kelly Moffitt, Clayton High School, St. Louis
2009 Tyler Cacek, Rock Bridge High School, Columbia
2010 Johanna Mayer, Washington High School
2011 Morgan Said, St. Teresa's Academy
2012 Kelsey Bell, Francis Howell North High School
2013 Kelci Davis, Francis Howell Central High School
2014 Jessica Dilks, St. Teresa's Academy