Missouri Investigative Journalism Workshop
The Missouri School of Journalism Summer Investigative Journalism Workshop
Learn how investigative journalists find information, track people down, conduct better interviews, analyze data and find great stories. You'll leave with skills you need to do your own investigations. The workshop is taught by investigative reporters who have worked at top news organizations such as The New York Times and by experienced MU faculty.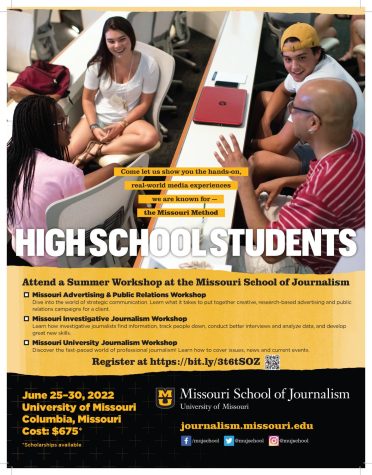 Highlights include:
How to use the web and social media to find information and background people.
How to conduct better interviews that get people talking to you.
How to analyze data to pull meaning from numbers and lists.
How to tell better stories.
How to find better story ideas.
Details:
When: June 25-30, 2023
Where: Missouri School of Journalism, Columbia, Mo.
Cost: 2023: TBD. 2022: $675. Includes workshop activities, on-campus lodging, meals and local transportation. Scholarships available.
Registration is not open yet. Learn more here.
For more information contact 573-882-8035.
---
At the world's school of journalism, real-world media experience is part of the curriculum.
The Missouri Method provides hands-on, real experience in five professional community newsrooms – including an NBC affiliate, an NPR-member station, a morning newspaper – and two advertising agencies with national paid clients.
Time-tested and industry-approved, the Missouri Method recently received a 97% post-graduate placement rate. High school students can get an early experience of this real-world, deadline-driven environment through one of our summer workshops.
High School Students:
Come experience the Missouri Method for yourself!
Attend a Summer Workshop at the Missouri School of Journalism in Columbia, Mo.