Missouri University Journalism Workshop
We will be offering a unique opportunity for student journalists to explore many facets of journalism.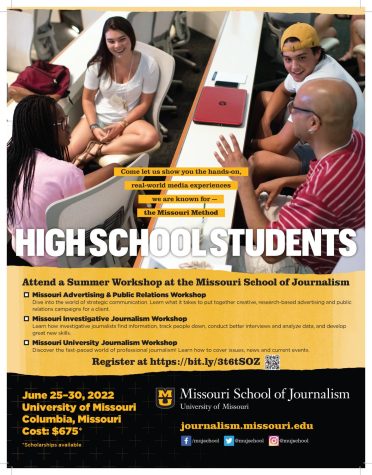 Our mission for MUJW is to help aspiring high school student journalists in developing an understanding of the importance of diversity in news coverage and in the newsrooms of America. This hands-on, interactive workshop is based on teaching the Missouri Method and facilitating growth in all areas of cutting-edge, 21st-century journalism.
When: June 25-30, 2023
Where: Missouri School of Journalism, Columbia, Mo.
Cost: 2023: TBD. 2022: $675. Includes workshop activities, on-campus lodging, meals and local transportation. Scholarships available.
Registration is not open yet. Learn more here.
For more information contact 573-882-8035.
---
At the world's first school of journalism, real-world media experience is part of the curriculum.
The Missouri Method provides hands-on, real experience in five professional community newsrooms – including an NBC affiliate, an NPR-member station, a morning newspaper – and two advertising agencies with national paid clients.
Time-tested and industry-approved, the Missouri Method recently received a 97% post-graduate placement rate. High school students can get an early experience of this real-world, deadline-driven environment through one of our summer workshops.
High School Students:
Come experience the Missouri Method for yourself!
Attend a Summer Workshop at the Missouri School of Journalism in Columbia, Mo.