Quick Guide to MIJA
Are you thinking of becoming a member of MIJA? Even if you're a returning member, here's a reminder of what our organization stands for and what we offer: 
Too often, journalism teachers are off in their own corner of the world within their schools. MIJA unites us with other teachers who understand the challenges and joys of teaching and advising journalism. 
In 2022, the Missouri Interscholastic Press Association (MIPA) and the Missouri Journalism Educators Association (MJEA) merged to create one unified press association to connect advisers across the state: MIJA. 
MIJA is a state organization working in association with the Missouri School of Journalism; Journalism Educators Association, JEA; and the National Scholastic Press Association, NSPA; for advisers in the state of Missouri.
Here's what we offer based on basic membership benefits. Learn more about our membership tiers or see the graphic below.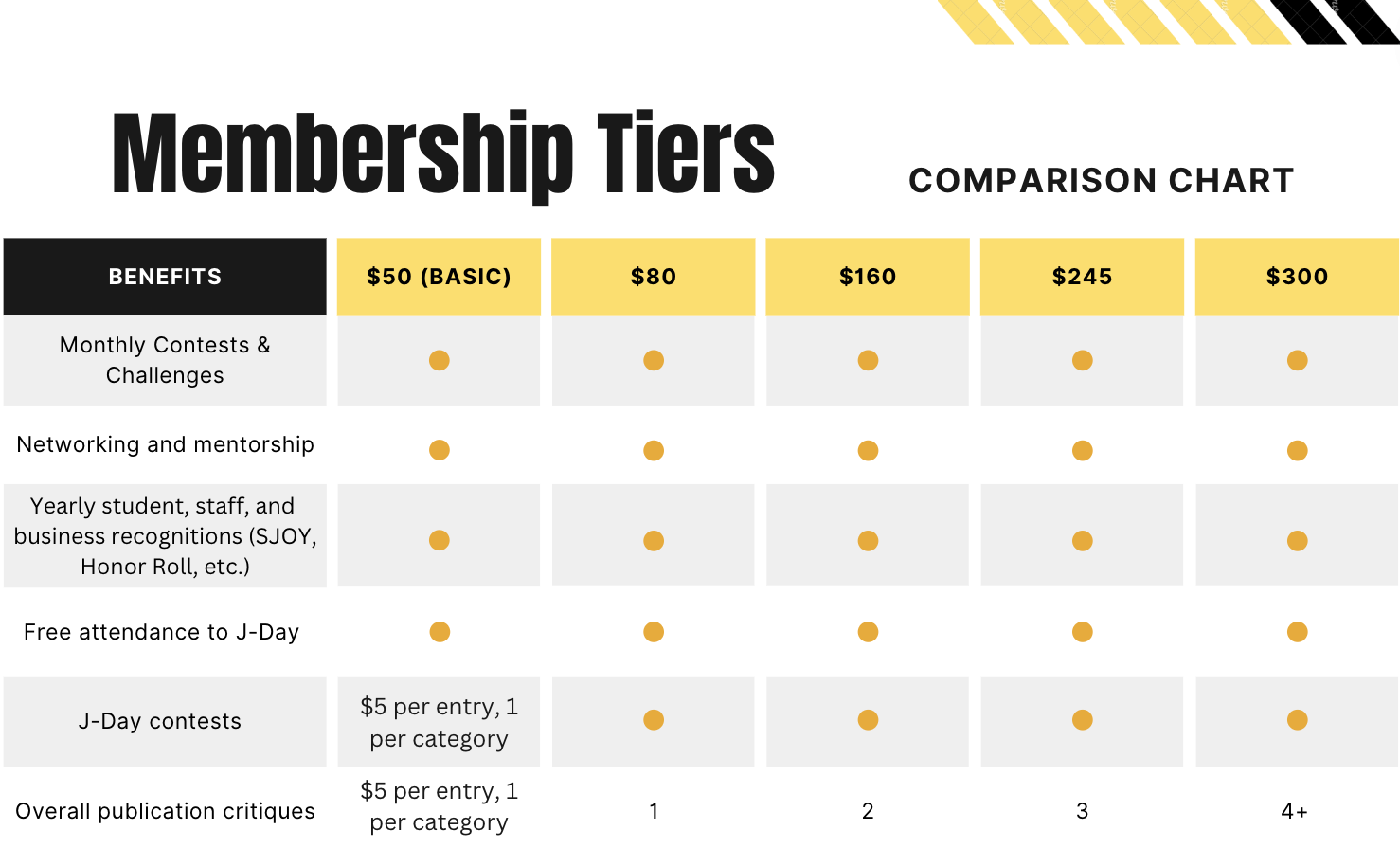 1. JDAY: 
MIJA hosts JDay every spring for students and advisers. It is a full day of speakers, workshops and awards at the Missouri School of Journalism. Basic membership includes attendance to JDay but does not include entries in JDay contests due to judging fees. School organizations can still enter at $5 per individual entry. In a normal year, dozens of schools from across the state bring their entire staff on a bus to Columbia, arriving between 8 a.m. and 8:30 a.m. to Jesse Hall to gather for the kickoff. Following the kickoff, students can choose from four JDay workshop sessions featuring dozens of journalism-related workshops and learn hands-on from a variety of professionals. Sessions range from yearbook to newspaper/magazine to broadcast, photography, current events, trending topics and more. Students are able to experience the campus firsthand and will have the opportunity to enter onsite contest. All of MIJA's awards will be presented in-person on this day as well. 
2. AWARDS AND DISTINCTIONS FOR STUDENTS AND STAFF:
MIJA hosts individual and overall contests for exemplary student work in categories such as newspaper, photojournalism, yearbook, web, broadcast, and more. 
($5 per individual entry for basic members or non-members, one entry per category.)
Students are also able to earn honors and distinctions such as:
Exceptional journalism teachers and supporters can also be nominated and distinguished with these awards:
MIJA also hosts the Contributing Medium, Knight and Taft awards.
MIJA provides access to examples of exceptional student work. Top work from contests will be added as they become available. We also welcome members sharing work your students are particularly proud of having completed.
If you are a basic member school, you are able to enter monthly contests and challenges and apply for student and staff honors free of charge. Overall category contests where students can earn individual recognition require basic level members or non-members to pay a fee of $5 per entry and may only submit one entry per category. 
OTHER BENEFITS: 
3. MIJA offers overall publication critiques to help promote growth in future student work. Overall critiques are not included in basic membership. (All overall publication critique submission deadlines coincide with the JDay Individual Contest deadlines, except for yearbook. Due to deadlines, yearbook critique submissions are accepted in the summer and fall for the following spring's contest season.)
4. Members can request a MIJA mentor teacher for guidance and support by emailing [email protected]. 
5. MIJA provides a way for our members to network, as well as receive important reminders and updates such as "Thursday's Tips." While you may see some previews of these announcements here on our website, ALL information is shared via our email updates from board members.
6. MIJA provides various resources and support concerning Student Press Rights questions.
In addition to our JDay, MIJA also recommends the three summer communications and journalism workshops hosted by the Missouri School of Journalism at the University of Missouri:
It doesn't matter if you are a new adviser or have been at it for over 20 years, MIJA wants to help you and your student journalists. 
Join or renew your membership to MIJA today! For more details on our membership tiers, click here. 
*Membership starts at the beginning of each school year and should be renewed during that time (August/September) if schools plan to participate in the monthly contests. Late fees are assessed after Nov. 1 per MIJA's bylaws. 
QUESTIONS?
Please contact the MIJA board directors at [email protected] with any questions.