Jacobs, beloved by student journalists, named Administrator of the Year
The Missouri Interscholastic Press Association is excited to recognize Liberty North High School Principal Marty Jacobs, Ed.D, as the 2019 Administrator of the Year.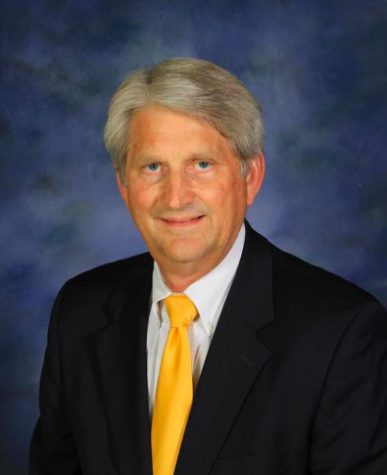 MIPA strives to honor administrators who support journalism in our state's schools.
In his decision, one judge wrote: "Liberty and Liberty North have had amazing publications for years — that is first reflective on the students and advisers, but they cannot do their job without exceptional support. It's obvious they have that in Dr. Jacobs." Others wrote as well: "Dr. Jacobs seems to truly advocate for a free press in high school journalism." and "I wish my principal did what Dr. Jacobs does!
In their nomination, journalism teachers Jennifer Higgins and Ronna Sparks-Woodward said, "We both were hired by Dr. Jacobs, and worked with him at Liberty High School for several years. And we were thrilled to learn that he would be the new principal at Liberty North High School, opening in 2010, and knew immediately we wanted to follow him to the new school. It wasn't easy, building yearbook, newspaper and broadcasting programs from scratch with a small student population, but Dr. Jacobs helped us every step of the way.
"One of our favorite things about Dr. Jacobs is that he's not a micromanager, despite his willingness to help with even the smallest things. He respects the nature of autonomy that student journalism needs to function and grow. He's the perfect example of what an adviser should be in journalism, as he offers advice but doesn't insist or even expect it to be followed. He lets us manage our classrooms and lets our students manage our publications. If there's a parent or community concern, his first action is to suggest that the individual contact the adviser and staff and lets us handle it in the appropriate manner. He makes it clear that our publication is ours and o ers support when we need it and freedom constantly.
"Whether it is a newspaper story on the LGBTQ community, a broadcast story on vaping, or a yearbook story about young teenage mothers, Dr. Jacobs encourages our young journalists to seek out the hard, edgy stories and trusts them (and us) enough to know it will be done correctly. When the #MeToo movement was gaining momentum last spring, he sought out a couple newspaper students and asked them to do a monthly series in the newspaper regarding sexual harassment at Liberty North. This is just one example of the support we have always received from Dr. Jacobs."
For 34 years, Dr. Marty Jacobs has been a constant presence at Liberty Public Schools, first at Liberty High School, and since 2010, at Liberty North High School. Dr. Jacobs will be retiring at the end of this school year, and a former student described Dr. Jacobs as being the Atticus Finch of Liberty North High School. In clarifying, she explained that he spends his life at the school for "his kids,"and he is "the most fair person ever. He teaches you things without you even being aware of it. It's as though he loves us all and he'd stand up for us all." At Liberty North, they are thrilled for Dr. Jacobs to receive this award.
He will be recognized as the Missouri Administrator of the Year during the annual Journalism Day on Monday, March 25, at the University of Missouri-Columbia.
For more information on the award, please read: https://mipajournalism.com/awards/administrator-of-the-year-2/
Leave a Comment