Merithew recognized for service to state scholastic journalism
From leading in the classroom to leading the state, journalism educator Ben Merithew has dedicated years of his career to supporting scholastic journalism in the state of Missouri. The MIPA Board of Directors is so excited to name Merithew, journalism teacher at Fort Osage High School and past MIPA President, the 2019 Taft Award winner for service to journalism.
MIPA strives to honor its tradition of recognizing excellence and dedication. The Taft is awarded to a person or group giving outstanding service to scholastic journalism and/or to MIPA.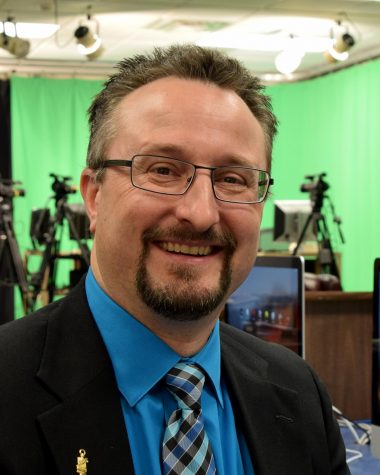 According to the nomination, "Merithew has not only more than proved himself as a Journalism Educator, he has been a CHAMPION for MIPA. During many a difficult year, he stayed the course as MIPA President. He did so with poise and candor that was professional and insightful. His goal was never for us to be divided but united, which is why he never gave up on trying to preserve our Journalism teachers group. Ben worked to bring new life to MIPA. I can safely say that MIPA today wouldn't be as strong, or perhaps even still EXIST if Ben Merithew hadn't been in charge. Through it all, he still is one of the first people to lend a hand to teach a J-Day session or present honors at J-Day , even though his "term" as President has passed. He is the glue that kept us together during some incredibly rocky years."
Judges wrote: "Ben worked many years to hold MIPA together during its darkest days and continues to help every time he has the opportunity." and "Ben is a great option for this since he has done so much for MIPA through the years."
Service award recipients will be recognized at the annual Journalism Day on Monday, March 25, at the University of Missouri-Columbia.
For more information on these awards, please read:
Leave a Comment