Leave your stamp on J-Day 2018!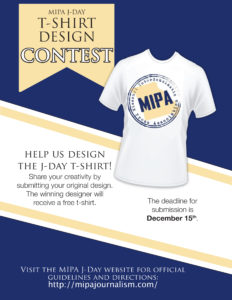 Like last year, students have the chance to design the event shirt! That's right, pull out your best design skills, dust off that computer and get to work. The deadline to submit your design for the MIPA J-Day 2017 T-shirt is Friday, Dec. 15, 2017.
The winning designer receives his/her shirt free and the bragging rights of dressing journalism students across the state.
To submit your design, follow these guidelines:
​Your design may have elements on both the front and the back of the t-shirt. However, you are limited to only 2 colors per side (2 on front, 2 on back). This year's shirt will be navy.
​Submit your design in PDF format (under 25 MB) on this link.
Hold onto your design's vector art. The winner will be contacted so he/she can forward it to MIPA.
Submit your design byFriday, Dec. 15, 2017
Include the following information in your design:
J-Day 2018
​Wednesday, March 28