Third Challenge Winners Named
The results for the third of three Challenges for this school year are back from the judges.
In this Challenge, scholastic journalists were asked to produce an yearbook spread or a newspaper/newsmagazine page or spread, plus the editorial challenge was opened again.
Editorial Challenge
First place
Eagle's View Staff of Liberty North High School
Judge's Comments
The texting and driving editorial from the Eagle's View staff displays a strong, unified voice, and states and supports a clear argument. The editorial is well-researched, using statistics and comparative analysis to educate the reader. The persuasive voice is creative yet professional; the writing overall is excellent. Note: The staff should be careful to adhere to AP Style, as the numbers and in-text citations are not Associated Press style.
Second place
Paragon Staff of Hermann High School
*No other awards given.
—–
Newspaper/News Magazine Challenge
First place
FRCC Students Push Gender Stereotypes, Pursue Passions by Sophie Koritz and Willa Reust of Washington High School's Advocate Newspaper Staff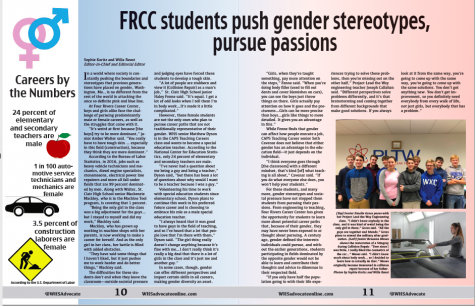 Judge's Comments 
This exceptional news magazine spread stands out because it includes multiple interviews and considers gender stereotypes in both traditionally male- and female-dominated fields. The reporting lets the interviewees drive the narrative with their experiences and observations. The infographic contains solid statistics that are relevant to the story, and the photos also enhance the spread. The gradient color background is visually pleasing, but more importantly, illustrates the blending and blurring of stereotypes and the pink/blue dichotomy. 
Second place 
Empowered Women Empower Women by Kari Tott, Aashree Gandhi, Karlee Kent, ans Ashton Overby of Liberty North High School's Eagle's View Staff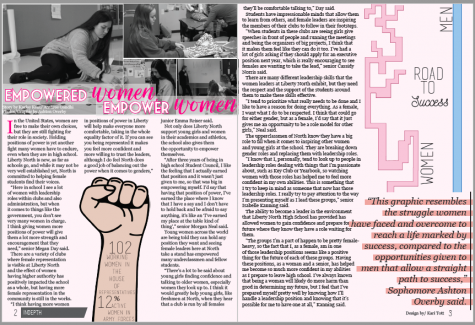 Third place
Nevertheless, She Persisted by Kaylen Aldridge, Claire Henry, Ella Pritchett, and Emma Suppes of Liberty North High School's Eagle's View Staff
*No other awards given.
—-
Yearbook Challenge
First Place
#DanTheMan by Clare Cunningham, Grace Duddy, Haley Anne Mahusay, and Cole Roberts of Staley High School's Legacy Yearbook staff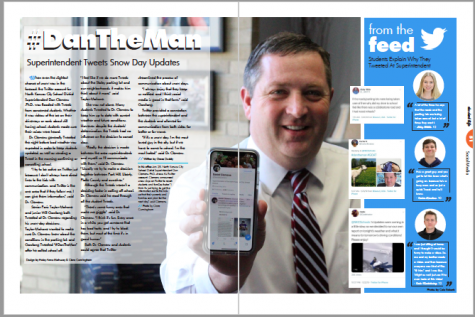 Judge's Comments
It is obvious that Staley HS has a STRONG yearbook program. It's also clear they actually read the requirements for this challenge. Not every entrant did. From creative articles to strong graphics, I am impressed. Selecting "the one" as first place wasn't an easy task. I eventually selected #DanTheMan. Kids these days don't know the long wait of seeing if school is cancelled on a scrolling screen on the local news station. Now, we have Twitter and administrators who know how to use it. I enjoyed the fact he does watch and read all tweets directed at him, but also love that he will take the time to BLOCK the ones that are in poor taste. The teen voice is so wonderful with the quote bar and screenshots of their actual tweets. Very clever. Do watch yourself in the article, though. Should there be a comma to start that sixth line? I am also not in love with the "W" to start the story. It just seems out of place as far as a font choice for what is happening with this spread. What a clever way to cover technology! It's well designed and both pages work together beautifully. Bravo, Staley High School!
Second Place
Stay Tuned by Haley McAtee, Ellie McCroskie , Claudia St.John of Staley High School's Legacy Yearbook staff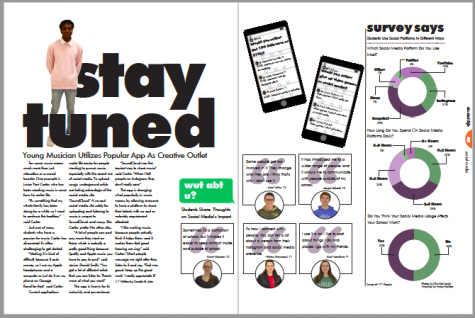 * No other awards given.