October Photo of the Month winners announced
Congratulations to the winners of the October Photo of the Month contest! This month's theme was "Change/Transition," and the judges had so many wonderful submission that it was a difficult decision to narrow down to just three photographs.
1st Place: Zeke La Manitia, Webster Groves High School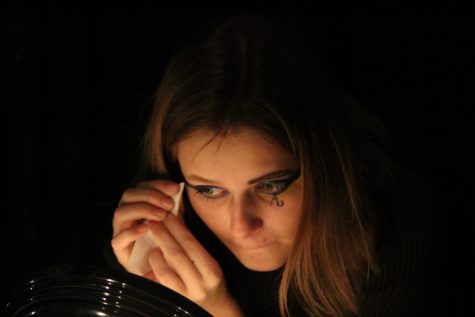 Judges' Comments:
I like the use of natural light to highlight the face of the subject.
Agreed. I love that the focus is fully on her face and what she is doing–there is no other distraction. It's a beautifully framed portrait. In your caption, though, try to add in more detail (i.e.-during play practice Nov. 4) and give your subject a voice by including a quote.
2nd Place: Lilly Concannon, Notre Dame de Sion High School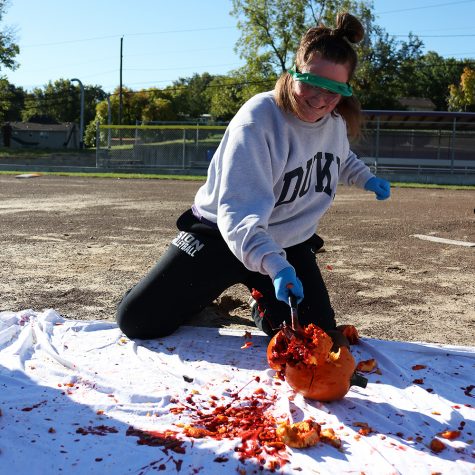 Judges' Comments:
I love the timing of the photograph, right as she smashed the hammer into the pumpkin and the expression on the subject's face. Crop a little tighter on the right and left side, instead of the square crop and the dead space on either side of the pumpkin and splatter.
Great clear focus and exposure. I love the fact that you can clearly see the "guts" of the pumpkin as they explode out of it. Excellent job with the caption as well.
Honorable Mention: Dani Rotert, Notre Dame de Sion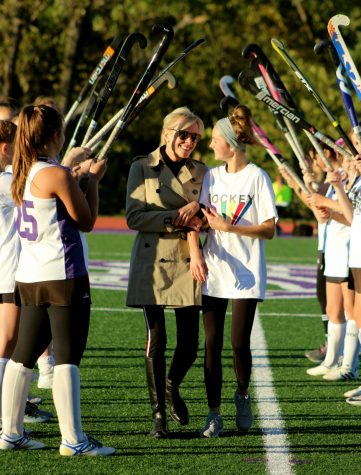 Judges' Comments:
I love the leading lines, framing and depth of field in this photograph. I also think the photographer did a great job of capturing the interaction between the mom and daughter.
The composition and exposure of this photograph is great, but it is really the expressions on the subjects' faces that make this photo. Wonderful quote in your caption, but try avoiding passive voice in your first line. Instead, try "While being escorted by her mom Heidi Peter, senior Grace Watkins walks across the field before the field hockey senior night game."