2019 J-Day winners announced
Thank you to the nearly 1,300 students and advisers who traveled to the University of Missouri-Columbia on Monday, March 25 for the 50th annual J Day celebration of student journalism! And congratulations to the State winners honored in Overall and Individual contests.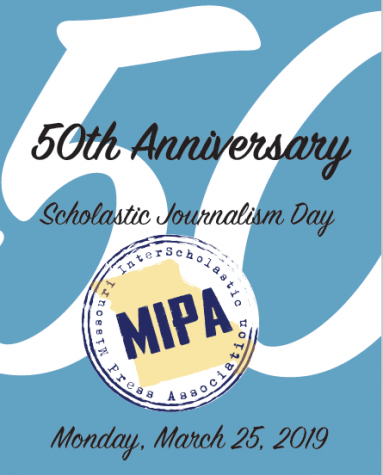 MIPA recognizes All-Missouri, Superior, Excellent and Honorable Mention work with certificates. MIPA judges chose roughly the top 10% of the entries to recognize as All-Missouri award winners.
A complete list of individual and overall contest winners is available at: http://mipajournalism.com/j-day-awards-lists
and at: 2019 Individual and Overall Results
We would like to thank our 50+ judges who reviewed the 1,400+ entries this year. Judges range from journalism teachers and professors to professional journalists from across the country. Without their time, commitment and feedback, scholastic journalists across the state would not have the opportunity to learn and improve.
2019 Judges:
| | | |
| --- | --- | --- |
| Jeanne | Abbott | associate professor, Missouri School of Journalism |
| Shari | Adwers | adviser, Loudoun Valley High School |
| Kathy | Allen | adviser for newspaper and co-adviser for yearbook |
| Alicia | Archuleta | journalism adviser/teacher |
| Louisa | Avery | journalism and digital design teacher, adviser of Pep O' Plant newsmagazine and PHSnews.com news site |
| Molly | Baker | |
| Jane | Banester | adviser |
| Karen | Black | former newsmagazine and yearbook adviser at Hickman Mills H.S. – MIPA Taft Award 2006, Longview Community College "Current," newspaper adviser, one semester for sabbatical professor. |
| MIPA | Board of Directors | advisers |
| Cherié | Burgett | adviser |
| Cal | Butcher | Director of Media Crossroads & Full-time Faculty at University of Kansas |
| Erin | Coggins | adviser |
| Julia | Copeland | education specialist, Balfour Publishing |
| Diane | Davis | freelance proofreader, NNA |
| Adam | Dawkins | adviser, RJ Media, Coordinator, National JEA Scholastic J Week, Past President, CSMA |
| Bethany | Drobeck | |
| Alis | Dunaway | writer |
| Brian | Eriksen | teacher, adviser, JEA State Director |
| Taylor | Ernst | |
| Sara | Gonzales | |
| Annie | Gorenstein-Falkenberg | |
| Homer | Hall | |
| Trevor | Hayes | freelance sports TV Producer (studio and remote) |
| Minerva | Howard | retired journalism teacher at Hickman High School, taught writing at Sylvan Learning Center, volunteer at after-school program for Spanish speaking students, judge for newspapers for MU and Iowa University. |
| Joe | Humphrey | teacher and adviser; experience as a reporter and editor |
| Jessica | Hunziker, MJE | adviser |
| Trevor | Ivan | |
| Christy | Jung | Media Communication Professor at Hannibal-LaGrange |
| Tanya | Katnic | yearbook and journalism adviser |
| Jack | Kennedy | Executive Director, Colorado Student Media Association |
| Paige | Kesler | supervisor of yearbook department |
| Rachel | Kidder | adviser |
| Suzan "Kim" | Lynch | adviser |
| Jonah | McKeown | Staff Writer, Catholic News Agency |
| Jackie | Mink | adviser |
| Jennifer | Nelson | Senior Information Specialist at Donald W. Reynolds Journalism Institute/Editor at Osceola Sentinel-Tribune from 2010-2012 |
| Kristy | Nyp | secondary journalism teacher |
| Megan | Palmer | adviser |
| Mary | Patrick | yearbook adviser and JEA mentor |
| Wayna C. | Polk | publications adviser – Abilene High School, Abilene, TX |
| Randy | Raley | Operations Manager KPOW FM Sedalia |
| Terri | Real | yearbook/ newspaper teacher |
| Michael | Reeves | adviser of The Dispatch newspaper at James Bowie High School |
| Shannon | Rennaker | |
| Brooke | Rhoads | editor in chief |
| Kimberlee | Ried | Public Affairs Specialist |
| Hannah | Shapiro | journalism & filmmaking teacher |
| Rebecca | Suchy | Coginchaug High School adviser |
| Michelle | Turner | adviser |
| Lizabeth | Walsh | adviser |
| Maggie | Walter | professor, retired, Missouri School of Journalism |
| Tom | Winski | Assistant Professor of Journalism |
| Amanda | Wood | |
| Sergio | Yanes | teacher/adviser |
| Clay | Zigler | adviser |
| Stan | Zoller, MJE | |
We also thank the many sponsors who contributed to the awards:
Missouri School of Journalism
Balfour
Jostens
Walsworth
MIPA Judges Fund
eMissourian
KRCG Channel 13, Sinclair Broadcast Group
Missouri State Teachers Association, MSTA
School Newspapers Online, SNO
KC Women in Film & TV

Sexton Media Group, River Hills Traveler

Planet Radio, Randy Raley