Keep MIPA Moving Forward
Now's your time …
You're a passionate, dedicated journalism teacher/adviser. You know the challenges of this profession. You know what teachers need. And you can make a difference.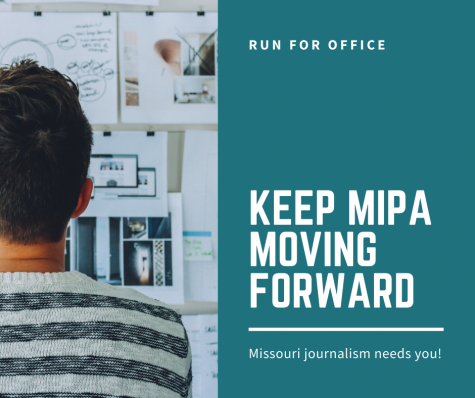 Maybe it's the right time for you to step into a leadership role with the Missouri Interscholastic Press Association. All members are invited to run for office in the upcoming board election.
It's not about where you live, how many years you've advised, whether your students won any awards … it's only about YOU having an interest in becoming involved at the state level to make a difference in scholastic journalism education. All board positions are open in this spring's election.
Missouri journalism needs you!
Having a full board of directors leading MIPA for the last four years, we've seen the addition of several programs and the evolution of others. Missouri needs a board of directors who keep what's valuable and make changes to move MIPA into the future of scholastic journalism. You could be that person.
As someone who has served on MIPA's board of directors for the past 14 years, I'm encouraging you to give it some thought. It's an incredibly rewarding professional and personal experience, and I'd be happy to speak with you directly (phone, email, text, whatever) to answer questions or provide more information. My email address is [email protected], or you can email any of the board members.
Missouri journalism needs you! If you're interested in running in the spring election for the next board, or know another teacher/adviser who would be a great leader, please nominate, or ask questions. While the election takes place electronically in February and the two-year term begins at #JDay2020 on Wednesday, March 25, 2020, nominations are open online now.
View Comments (2)