Nixa's principal wins Administrator of the Year
The Missouri Interscholastic Press Association is excited to recognize Nixa High School Principal David Kelly, Ed.D, as the 2021 Administrator of the Year. MIPA honors administrators who support journalism in our state's schools.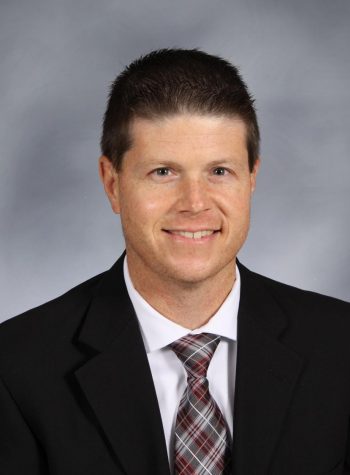 In the nomination, journalism teacher Beth Eggleston said, "He has been a partner and encourager of Nixa High School's journalism department since Day One. He has a respect for First Amendment rights and stands back as students gather the news. When it's time to get involved, he does so confidently and shows a constant respect and appreciation of our journalism department.
"In addition, Dr. Kelly is working with myself and our student journalism leaders to get us a space for a studio. He has been working directly with the leaders of our magazine, yearbook and broadcast program in order to plan out a studio and make it a reality within the next two years. We've been working in a crowded classroom, and he sees the struggle. He is working to fix that struggle. He has also made a commitment to finding us funding for new photography and video equipment.
"Dr. Kelly has told me that there is no need for prior review at our school. He said he knows our journalism students are in the business of reporting the news, and they do that well — therefore he trusts that they will continue to produce credible publications, with high ethical standards.
"I love the fact that Dr. Kelly shows confidence in our publications.
"His dedication to our journalism program is constant and greatly appreciated."
In a time when too many people in the general public push against objective reporting, Nixa High School Principal David Kelly, Ed.D. has shown his commitment to supporting young journalists. He is always available for a last-minute interview. He shows trust in the process of news gathering. He holds professional meetings and interactions with the school's student journalism leaders. He helps the journalism program grow by offering funding and is actively working to give the department a new studio space. Most of all, he stands back while the journalists report. He understands the power of a free press, and it shines through every day.
He will be recognized as the Missouri Administrator of the Year during the annual Journalism Day on Wednesday, March 31.
This year's presentation will be on a virtual platform. Please watch this website for his acceptance speech to come!
For more information on the award, please read: https://mipajournalism.com/awards/administrator-of-the-year-2/
Leave a Comment