April Photo of the Month winners announced
APRIL WINNERS
First Place: Ada Pipkins, Francis Howell High School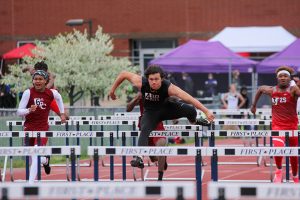 Judge's Comments: Track meets can be difficult to photograph because there is so much going on, but this photographer did an excellent job of clearly capturing the action of the main subject without having a distracting background. However, it is the main subject's expression–that look of determination– that truly makes this picture. The movements and facial expressions on the competing runners also adds to the intensity of the overall tone of this image, although a quote in the caption would add more voice to the image.
Second Place: Chloe Gerady, Liberty High School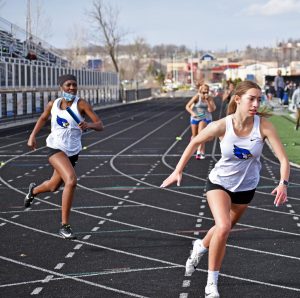 Judge's Comments: This photograph was executed well with regard to exposure and clarity, but in particular, the photographer did a great job of capturing the movement of the two subjects as they race around the track. The photographer's choice of location to photograph was also well chosen, as it allowed them to incorporate the track lines, which draw the viewers' eyes in and out of the picture. Just make sure to double check your caption for grammatical errors and be careful of crop lines–it is always better to give yourself more space on the edges so you can crop in on a picture afterward than to crop too closely while photographing so body parts get cut off or trimmed. For this image, it would have been nice to have just a bit more of the track/breathing space on the bottom and right side of the image, though the overall composition is well done.
Third Place: Morgan Wood, Kearney High School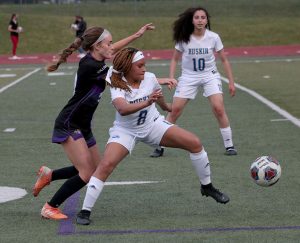 Judge's Comments: Soccer can be a tricky sport to photograph since it is so fast-paced, but this photographer did a nice job of choosing a good spot to capture the action. The framing and exposure were done well, and it is great that the ball and movements are clearly captured and framed within the shot. While the caption is written well, it would be nice to have a bit more information about how this game turned out or how the subject felt about their performance in this game.
Honorable Mention: Chandavian Bradley, Platte County High School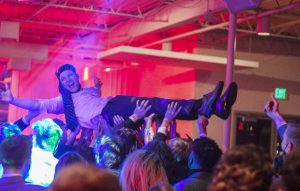 Judge's Comments: While the framing and exposure of this image is not the best, it is understandable that the lighting and timing of this situation would have definitely been difficult to photograph. However, I commend the photographer for getting a picture of this moment because it would have been a short-lived opportunity to do so. What makes this picture is the pure joy and excitement on the subject's face.