September Photo of the Month Winner announced
SEPTEMBER WINNERS
First Place: Mason Baugh, Staley-N2 Sports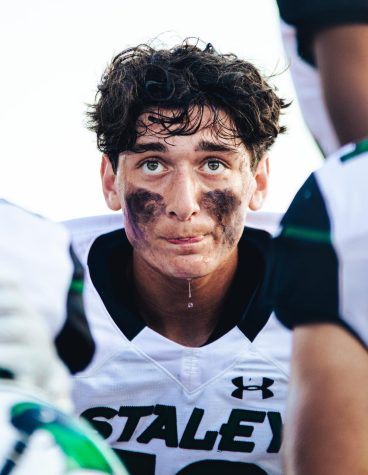 Judge's Comments: The framing on this image is fantastic, with the subject clearly focused on in the background. While the viewer can see other teammates around him, the subject seems almost alone in his concentration. The clarity on this image is wonderful as well, as it is clear he has been working hard during the game with the smudged paint and sweat that is visible. Furthermore, catching the water dripping down his chin gives the image a sense of movement. A quote from the subject in the caption, however, would have added a bit of voice to the image.
Second Place: Sophia Hegyi, Liberty-The Talon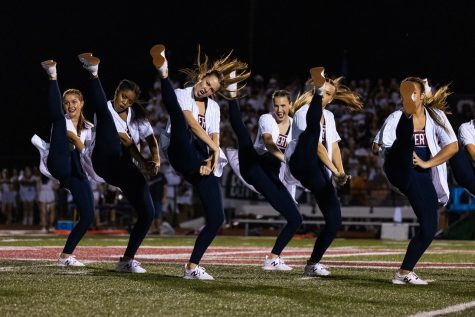 Judge's Comments: The repetition and symmetry in this photograph are wonderful, but the expression and stopped action of the front subject make this photo. There is an intensity in this moment that the viewer can feel despite this being a still image. Adding more detail and a quote from one of the subjects would better develop the caption, though.
Third Place: Landyn Goldberg, Staley-STTV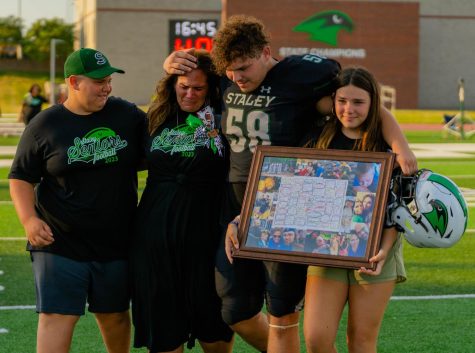 Judge's Comments: While this image is framed and exposed well, it is the emotion that is present that truly stands out. This is a wonderful example about how a caption can add context to an image, though a quote from the subject would give the caption an even more human element. Nonetheless, it is a heartwarming photo that demonstrates the power of photography and how a picture can evoke an emotional response.
Honorable Mentions