Today, in a tight decision the MIPA judges chose Jane Bannester of Ritenour High School as the 2017 Journalism Teacher of the Year.
For 46 years, MIPA has honored outstanding journalism teachers with the state Journalism Teacher of the Year program. MIPA wishes to honor outstanding high school advisers and their exemplary work throughout their careers.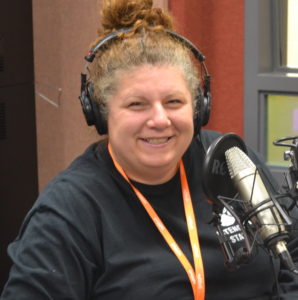 Since 1997, Bannester has been working as a journalism educator at Ritenour High School. She has taught mass communication, mass media, introduction to media convergence, radio 1, 2 and 3, TV news 1, 2 and 3, and video production 1, 2 and 3. In addition, she has sponsored KRHS 90.1 FM Ritenour Radio (2004 – present), KRHS TV News (2015 – present) and Ritenourlive.org (2013-present).
In the decision a judge wrote: "Selecting a teacher of the year is a difficult task. Journalism educators and advisers are inherently a passionate and dedicated group of professionals. Jane Bannester exemplifies this kind if dedication by her commitment to professional organizations and professional development.  Her willingness to go beyond Ritenour High School is exemplary. Ms. Bannester has presented at JEA conventions as well as its Adviser Institute, which shows her dedication to sharing her experiences with colleagues as well as students. She encourages her student journalists to pursue difficult stories, such as the tragedy in Ferguson or student summits on race relations. At Ritenour, her programs have flourished and not only attract potential student journalists, but gives them the chance to practice responsible broadcast journalism."
In her nomination, RHS student Izzy Clark said, "I can't think of anyone more worthy than Ms. Bannester, or "Bannie" as everyone calls her. Every day in her TV news class is exciting and I learn more with each year. I want everyone to know that she has made a difference and deserves to be recognized. It's not just doing school, but it's like a family. Being a part of her TV news course has really shown me how to work in the real world. By giving us experiences in the field, like doing news at the METC Conference or covering the Gateway2Change Student Summit on Race, I can say that I understand more about what I will need to do in my career choice. It's the only class I feel we are really focusing on specific skills for my career. Ms. Bannester has a high standard for our productions. She is not afraid to tell me what I need to do to improve, and at the same time, I feel like it matters. I have never had a teacher push me to perform so well, and also be so inspired. There is no one that deserves to be recognized more than Bannester. We all know she deserves the credit for what's happened to this program at our school."
Bannester will be recognized as the Missouri Journalism Teacher of the Year during the annual Journalism Day on Wednesday, March 29, at the University of Missouri-Columbia.
This year's sponsors donated:
Other 2016 JTOY nominees included:
Jason Stacy of William Chrisman High School, Independence
For more information on the award, please read: https://mipajournalism.com/awards/teacher-of-the-year/