Ford named Journalism Teacher of the Year
"It's not unusual for students at a high school to have journalism teacher who is passionate about journalism, mentors student journalism to produce quality journalism and to inspire them to take their skills to a higher level.
"However, when students at two schools have a teacher who does that – and it's the same teacher – that's exceptional.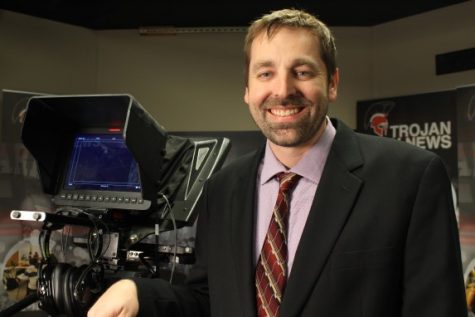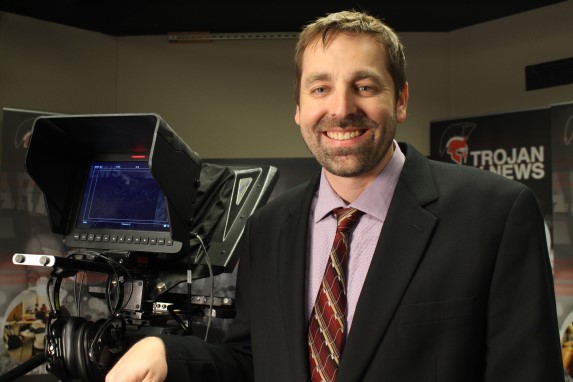 "And that's what Justin Ford, broadcast instructor at Park Hill High School and Park Hill South High School does," wrote the MIPA judge when choosing Ford as the 2020 Missouri Interscholastic Press Association Journalism Teacher of the Year.
As the Journalism Teacher of the Year, Ford will be recognized at the 51st Annual Journalism Day on Wednesday, March 25, 2020, on the campus of the University of Missouri. For 50 years, MIPA has honored outstanding journalism teachers with the state Journalism Teacher of the Year program. MIPA wishes to honor outstanding high school advisers and their exemplary work throughout their careers.
Ford has advised the broadcast journalism programs at both high schools in the Park Hill School District for the last 13 years. Daily, he travels between both Park Hill South and Park Hill High. His 120 students produce a live morning show at Park Hill South and a live afternoon show at Park Hill High. Prior to teaching, Ford worked in television news for five years in Kansas City covering sports news at Metro Sports, now Spectrum Sports, on Time Warner Cable.
The judge continued in his evaluation, "It's more than just a little evident that Ford instills his passion for broadcast journalism in his students.  The work they do on their respective shows; "South Side Scoop" at Park Hill South and "Trojan TV News" at Park Hill High School is exceptional not only because of its content and production, but because each show reflects the character of the school.
"While program at both schools have been showered with countless awards and honors, what students say separates Mr. Ford from other teachers is, wrote Salome Yimer "We are gifted with a teacher who spends 24/7 of their time preparing us for class, competitions and most importantly the real world."
"Ford's extensive background in broadcast journalism gave him a taste of "the real world" and he has been able to impart those experiences to his students. Just as Kara Strickland, now at KSPR-TV. "Walking into a professional newsroom was not as intimidating because his classroom exposes you to a real-life newsroom every day…Mr. Ford pushed us to get our content out there for professionals to critique…"
"Ford's desire for excellence goes beyond the classroom. As a member of the Student Television Network Board of Directors, he co-led the Curriculum Committee and launched and drafted national standards for broadcast journalism. These efforts gave broadcast journalism educators around the country the opportunity to apply Ford's expertise to their own classroom so they can challenge their students to produce outstanding programs.
"The one thing they won't have, however, is exceptional passion and dedication that is uniquely Justin Ford, which sets him apart from the pack."
2020 Sponsors: $425 cash prize and plaque
Balfour Yearbooks, Whitney Baker, Allison Schroeder and Liz Bardin
Walsworth Yearbooks
Herff Jones – Dan Mueller and Leah Blase
Missouri State Teacher Association
KCWIFT, KC Women in Film & Television
Planet Radio
Leave a Comment