MIPA Challenge #3 Winners Announced
MIPA Journalism Challenge #3 was for Yearbook and Newspaper/Newsmagazine. Topics were emailed to MIPA members on Jan. 10 and teams had until Jan. 24 to submit their work.
The results are in!
Yearbook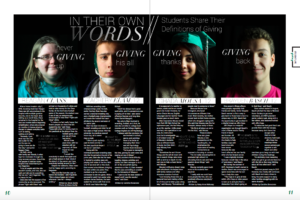 First Place: Caroline Bonacorso, Grace Duddy, Haley Anne Mahusay of Staley High School for "In Their Own Words: Students Share Their Definitions of Giving"
Judge's Comments: Stunning, personal, and powerful stories. Excellent use of text, images, and overall layout. While this isn't your typical "action photo" yearbook piece, it still engages the audience. Bravo for seeking out strong stories from a variety of students. This is what a yearbook can give to a student body that Snapchat and Twitter cannot. I am hopeful that your student body appreciates and purchases this book to serve as an excellent reminder of their time at Staley High School in the decades to come.
Second Place: Haleigh Evans, Laura Rosario, Alexis Day, Hannah Bardwell of Staley High School for "Giving Her All to Family: Student Takes on Multiple Responsibilities"
Third Place: Logan Jasper, Alyssa Gale, Caitlin Pottebaum, Marissa Groppe​ of Hermann High School for "The Silent Givers"
Newspaper/Newsmagazine: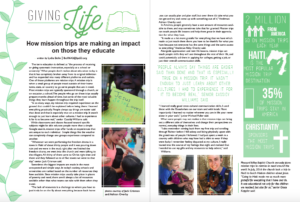 First Place: Kayl Auch, Kari Tott, Kaylen Alridge, Lydia Bolin of Liberty North High School for "Giving Life"
Judge's Comments: The overall design, article, infographic, and images all combine to create a SOLID piece that fits the given theme of "Education is Life" beautifully. I sincerely hope you publish this in your school newspaper/ newsmagazine for your student body to enjoy. Do watch spacing within the article. At times I feel like you forgot to space after a word or punctuation mark.
No other awards were given in this category.