This week, MIPA launched a Pinterest page and boards filled with great links to lessons, ideas for energizing staffs, fonts, photo tips, designs, and much more.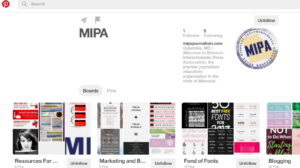 If you'd like to see a new board, or suggest pins to boards, please feel free to do so in Pinterest, or by email to regional rep Jami Williams, [email protected]. We would love to expand this interactive tool for all members!
This and other great resources for advisers are also found on our Adviser Resources tab.