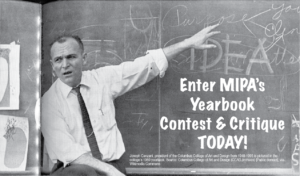 Fiery photos? Captivating captions? Fabulous feature writing? See how your 2017 overall yearbook stacks up to national design, writing and photography best practices by submitting it to MIPA's annual Overall Yearbook Contest & Critique.
Before you pack up your room for the summer, take a moment to complete the entry form and mail your 2017 yearbook to the MIPA judges. For fall-distributed books, you have a bit more time.
You can find all the details HERE. Or, keep reading below:
MIPA is the only state organization to offer its members a critique service reviewing the entire yearbook publication each year. Experienced judges will offer feedback on photography, writing, editing, design and coverage. This service is INCLUDED FREE in your membership fees paid during the school year in which you produced the book. We are now accepting 2017 yearbooks from our 2016-2017 paid member schools.
DON'T MISS THESE ENTRY DEADLINES FOR YOUR 2017 OVERALL YEARBOOK:
SPRING Distributed Books – due postmarked by July 15, 2017
FALL Distributed Books – due postmarked by Sept. 16, 2017