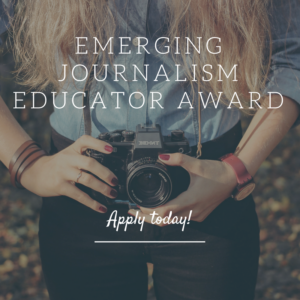 MIPA is pleased to announce a new award in our line up this spring – the Emerging Journalism Educator Award for new journalism teachers/advisers. If you know of or you are a new journalism educator, please consider nominating him or her for this honor!
MIPA recognizes that new journalism educators work long hours and dedicate passion to their journalism students and programs. If you are in your first to fifth year as a journalism teacher/adviser, we invite you to apply for this honor.
Please don't let the application and its supporting materials intimidate you. Once you start, it's a great learning process about yourself as an educator, and won't take any time at all. We know it's a short 30-day notice this year, but we hope someone becomes Missouri's and MIPA's first Emerging Journalism Educator for 2017!
MIPA is super thankful for the sponsor who suggested we add this award, Jostens, and another contributing sponsor, Walsworth for offering a combined $500 award.
If you have questions about the process, please contact the MIPA office at [email protected], 573-882-6031.