The Missouri Interscholastic Press Association announces Jessica Cordonier of Liberty High School, Liberty, Mo., as its first-ever Emerging Journalism Educator.
In 2017, MIPA launched a new award to recognize promising new journalism educators. These "rising stars" show a commitment to journalism education, improving the media programs at their school and empowering their scholastic journalism students.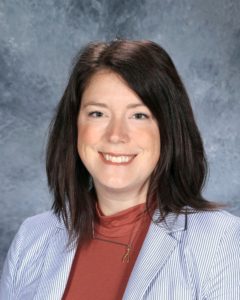 In her nomination, the student editor-in-chief said, "Mrs. Cordonier is an advocator in understanding the importance and responsibility of reporting. She has taught us the value in sharing other's stories, and telling the truth even when it might not want to be heard. Mrs. Cordonier has been a role model to the staff by demonstrating the ability to actively use our First Amendment right. She encourages students to have individuality, and she is not afraid to stand up for what is right for the school and its students. Mrs. Cordonier also encourages the editorial staff members to step up and learn responsibility. She keeps the staff accountable for their actions and the way we represent ourselves to the staff, and student body. She has taught the value in respecting other's ideas and opinions, while still being able to make decisions for the yearbook."
When describing why she loves advising, Cordonier wrote, "I love advising student publications because my students are in charge of their own learning and the product that they publish. The work that they are doing also matters to them because they are in charge of what is covered and how it is covered. There is nothing more amazing than watching students become leaders, and leaders become true editors who determine what stories are important and the best way to tell them. As difficult as it can be, I love when we make mistakes and the learning that comes from those mistakes."
Cordonier will be recognized as the Emerging Journalism Educator during the annual Journalism Day on Wednesday, March 29, at the University of Missouri-Columbia. She will be given a plaque and a cash prize on stage in the awards ceremony, as well as be given time for a short acceptance speech.
This year's sponsors donated to the winner:
Other 2017 EJE nominees include:
Paul Aubrey, North Kansas City High School
Zachary Breitenstein, Platte County High School
Jeremy Housewright, Ritenour High School
For more information on the award, please read: https://mipajournalism.com/awards/emerging-journalism-educator-award/