November Photo of the Month Winner
November's Photo of the Month winners are here! The theme was "pumpkin spice and everything nice" and photographers could interpret that however it fit their school and student body.
Congratulations to this month's winner, Phylicia Barner-Lewis from Notre Dame de Sion!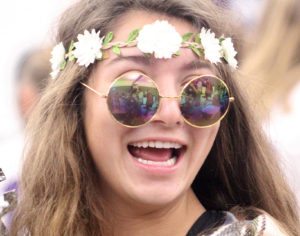 While preparing to storm the court before the Sion vs St. Teresa's Academy basketball game Nov. 17, senior Eden Griffith laughs with friends. The theme for the game was 'Peace and Love'. "My friends and I were all so excited about the game and we had so much energy," Griffith said.
Honorable Mention: Paige Ritter from Notre Dame de Sion
Remember to submit your photos for December's contest! The theme is "Under Pressure."