MIPA Organizes Journalism Summit Sept. 24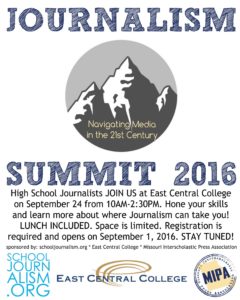 By Michelle Turner
East Central College (Union, Mo) is the place to be for high school journalists on Sat., Sept. 24.
Leigh Kolb, ECC English and Journalism instructor, and Washington High School's Blue Jay Journal TV adviser, Michelle Turner, are partnering with the Missouri Interscholastic Press Association and SchoolJournalism.org to bring the first-ever ECC Journalism Summit to life.
Registration will start Sept.1. Space is limited to the first 25 students who register, but if there is a high enough demand, Kolb and Turner may be able to expand that number to 30. This free event will take place from 10:00 a.m. to 2:30 p.m., and lunch is provided.
Students who attend can expect to hear from various professionals and learn more about what ECC has to offer in partnership with the Missouri School of Journalism.
"We look forward to showing students how valuable and diverse the field of journalism is, and how many opportunities are available for students to develop their skills at East Central College, especially with our transfer agreement with the University of Missouri's Missouri School of Journalism," Kolb said.
Beyond exploring the Journalism and Mass Media options at ECC, students will learn more about photography, compelling storytelling, tech trends, media literacy, and more.
"Our goal is that students who attend can take what they have learned back to their respective schools and improve their Journalism programs," Turner said. "Journalism has great power to enrich lives and inform our communities. In my 21 years of teaching journalism, I have seen students grow on many levels by being a part of scholastic Journalism."
More information on how to register for the Journalism Summit at ECC will be available in the upcoming weeks via mipajournalism.com and SchoolJournalism.org.
MIPA President, Christina Geabhart, is enthusiastic about the event.
"One of MIPA's goals this year was to increase outreach throughout the state. This fall event should help students and teachers find resources and skills to help them during the school year. Regional events like these should help journalism teachers and their staff network with others," Geabhart said.